La Garrotxa, the land of volcanos
La Garrotxa provides the opportunity to enjoy yourself in the open air, a chance to relax in charming farmhouse accommodation or simply the delights of a good meal.

La Garrotxa lies landlocked in Girona region, in north-east Catalonia: for the most part the land is under 600 m a.s.l., although its highest peaks top the 1,500 m mark.
Two totally different types of landscapes can be enjoyed in La Garrotxa. On the one hand, over 40 volcanoes and numerous lava flows cover much of the southern half of the comarca and give rise to a rolling landscape – today protected by the La Garrotxa Volcanic Zone Natural Park – lacking any major relief features. To the north of the river Fluvià, however, the landscape changes radically. Abrupt cliffs and narrow gorges herald the entrance to the Alta Garrotxa, an area that has been declared an Area of Natural Interest; in the west of the comarca the areas of the mountains of Collsacabra and Puigsacalm have likewise been protected as Areas of Natural Interest.
The flat Bas, Hostoles and Bianya valleys provide a change from the encircling mountains, but are surrounded by some of the thickest and most extensive forests in Catalonia. The sunniest slopes are covered by evergreen holm oaks, whilst elsewhere there are significant downy oak forests – with a few stands of pedunculate oak around Olot – and beech forests in the coolest, most humid corners of the comarca.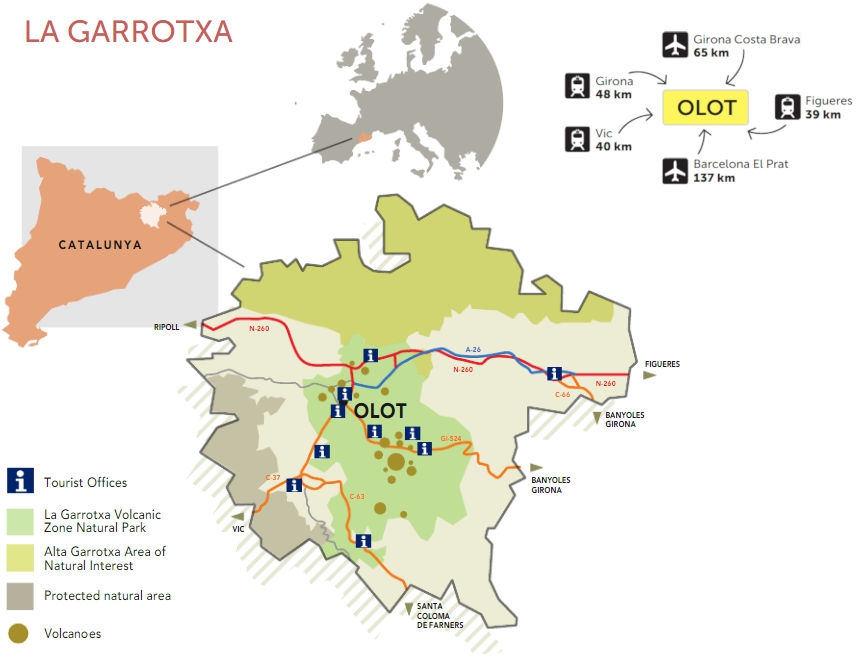 You'll find all this information in the guide "Tot Garrotxa".
Tot Garrotxa guide